Top 7 Reasons To Try Backpacking
Have you read or heard of people backpacking and wondered if it is for you? Well honestly, it can be for anyone. You just have to want it be open to going on an adventure.
If this sounds like you, here are some great reasons to try backpacking. What do you have to lose? Or a better question perhaps is, what do you have to gain?

#1: Get out into nature
There is so much beauty to be explored. You must get out in nature, find a trail, and challenge yourself to explore new areas. Backpacking can take you to locations that are unique and not crowded, unlike some simple day hikes. Backpacking takes you further down the trail to explore the unknown, the lakes, the waterfalls and the quietness. And best of all you get to sleep in the wilderness and under the stars. Let your senses be taken over by nature itself.
#2: Explore on a budget
For those who love the outdoors, it is a simple, somewhat inexpensive and fun way to immerse yourself in nature for longer periods of time. There are no rooms to rent or extra resort fees to pay.  You can borrow the necessary gear from a friend and save on cost of gear.  This is a great way to try backpacking without having to open up your wallet too much.  If you chose to buy your own backpacking gear, be sure to shop around for the best prices. View our article on the best backpacking backpacks to start with. 
#3: Build confidence and self-awareness
Backpacking can be full of rewards for each hiker. It gives you a sense of adventure, gets you in better shape and challenges you to reach new goals and be resourceful. It is important to do your research, pack and prepare accordingly. Once you've succeeded at backpacking, it opens up other aspects of your life to more adventure and confidence. Being out in nature instills self-awareness and decision making & backpacking skills which are helpful in many of life's obstacles. Amazing memories will be made!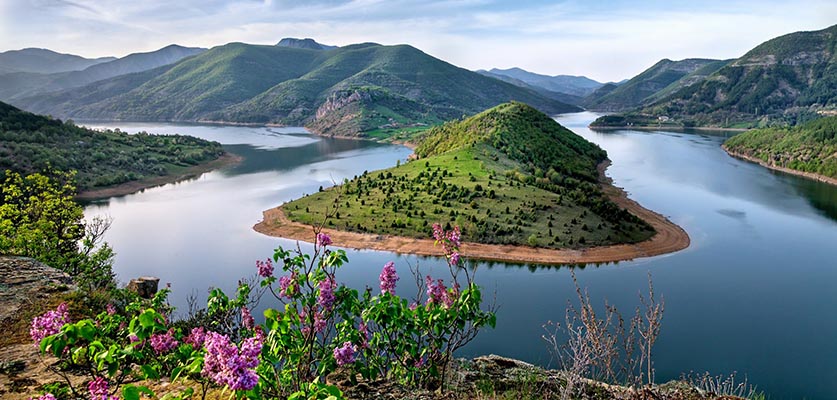 #4: Improve your physical and mental health
In order to go on a backpacking trip, you must carry a pack. By carrying the extra weight, in addition to hiking for days, you will be improving your physical strength and endurance. Depending on how long you plan to backpack, will depend on how heavy your pack will be. Plan to carry between 25-45lbs or more.
As you begin to climb the steep portions of the trail or conquer the more strenuous areas of your adventure, you will be taking on mental challenges and learning to trust oneself more than ever before. It's amazing what you can do when put to the test of physical and mental strength.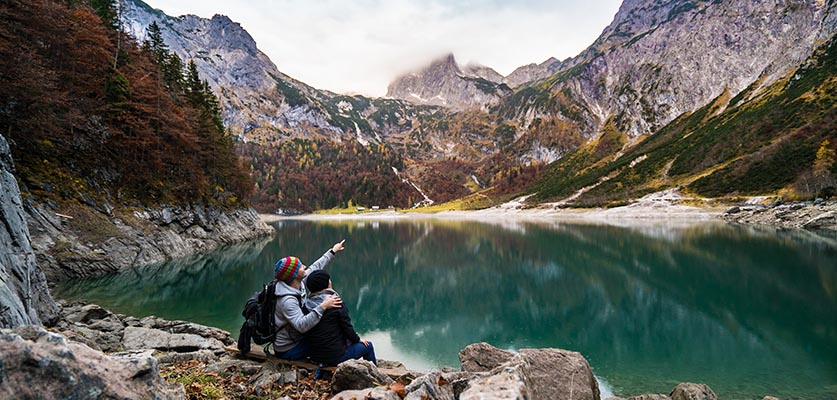 #5: Challenge yourself and try something new
Backpacking can be moderate to as difficult as you feel comfortable. We encourage you to set a goal of starting with an overnight backpacking trip and if you feel comfortable, try a longer trip the next time. Setting out on new adventures is a sure way to learn more about yourself and your environment. Most of us enjoy contentment, but putting yourself out there to discover new things can only help us grow stronger and wiser.  You will be surprised what you are capable of doing once you get out there. 
#6: Balance work and pleasure
We all have lives that can be overwhelmingly busy. So why not give yourself a much needed break and go backpacking. You can try going solo or you could ask a friend to accompany you. It's an amazing adventure to explore the land, and sometimes you'll even meet people along the way.
Many people say they have met great friends backpacking by sharing stories and the interest of the sport. If you don't put yourself out there on the trail, you'll never know what you could be gaining along the way. There is more to life than work, work, and more work. Being self-sufficient, being at peace with ourselves and able to respect the world around us is an important part of life.
Allowing ourselves the time and pleasure of adventure is worth it. What a better place to "find yourself" or "meditate" than in nature. Put the everyday demands on hold and give yourself the time to process things that have been pushed back in your mind. 
#7: Simplify
Backpacking creates a simplified version of life. You want to be intentional on what you pack and how you pack it because you must carry the backpack for miles, days, etc. Create a simplified list of your most necessary needs for your adventure.
Be sure to plan carefully and remember safety is very important. You may surprise yourself on how "little"' you can live off of when you are out in the backcountry with just yourself and a few supplies. Life can be pretty simple. I love the relaxed and peaceful feeling after completing a backpacking trip. Knowing what I just succeeded at, has given me strength, mindfulness, hope, and added confidence and inspiration to carry into my next chapter of life. 
We hope we have given you some great reasons to try backpacking. May these ideas help to inspire you to go on a new adventure. Venture onward.