Kelty Coyote 80 Backpack Review
Description
Let me get this out of the way… I LOVE Kelty backpacks and especially the Kelty Coyote 80 internal frame backpack!
I've been backpacking using Kelty backpacks for over 25 years, so I'm going to go into an in-depth review to explain some of the good and bad features that it has.
I'm calling this backpack not only the best hunting backpacking backpack, but one of the best backpacking backpacks ever made… only slightly behind the Osprey Atmos AG 65 pack.
Here's why this pack is on of the best backpacking backpacks…
Meet the Kelty Coyote 80 Backpack. This fully featured backpack by Kelty is great for all kinds of outdoor activities. Does your hobby's include rock climbing, hiking on the trails, camping or hunting trips, you're going to want to read this review.
Features: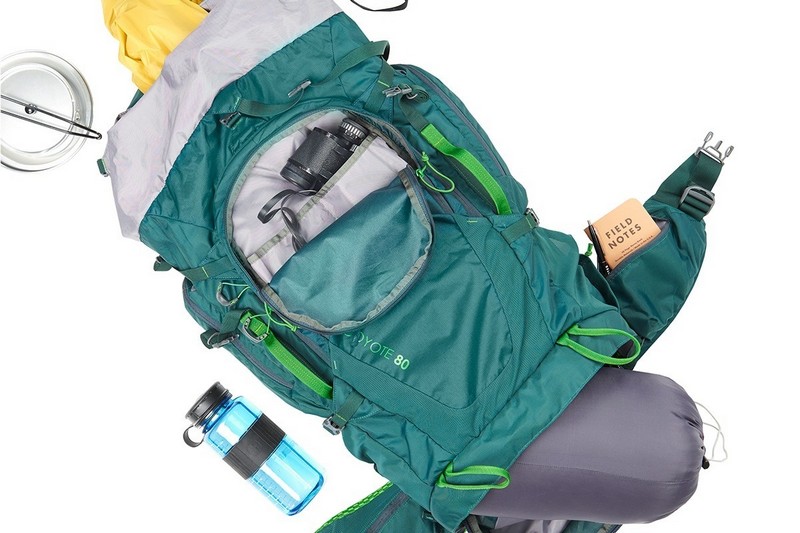 Let's examine some features that will help you determine if this is the right backpack for you.
Variation: This rugged backpack comes in 3 different colors, ponderosa pine, twilight blue, and black.
Key Features: This thing is loaded with a lot of cool features, hip belt pockets, with the aluminum stays for support, the backpack doesn't feel like a chore to lug around, it has a ton of storage space, this thing has pockets for days, and its pretty lightweight.
Product Details: 34 x 17 x 14 in. (This model is pretty large, great if you need increased carrying capacity.) Its weight capacity is listed at 55lbs. so it can handle a good amount.
Material: The backpack is made up of 420 denier polyester. Super heavy-duty fabrics typically weigh in at 100d to 600d and sometimes more. Typically found in gear like backpacks and duffel bags, the fabric is a of a more durable quality and more tear-resistant. This bag could be a little more resistant in my opinion, I think a 600d would suit this pack a bit better, as you will see later on in the review. Its frame is made out of aluminum and HDPE (High-density polyethylene.)
Specifications: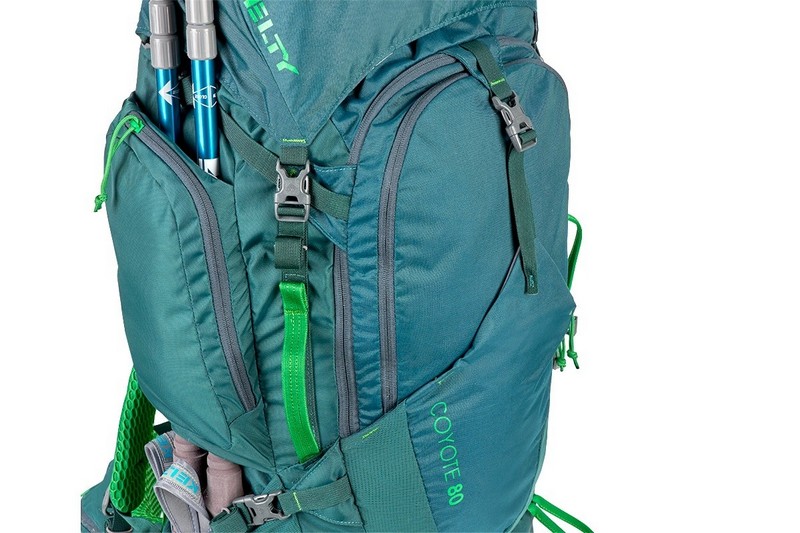 Other specifications:
This really is an impressive backpack and it has some noteworthy benefits about it.
This fully-featured Kelty pack is more than suitable for those long-extended weekend backpacking trips into the rugged outdoors.
Its perfect fit suspension system offers one-size-fits-all versatility and it's pretty comfortable to wear with an on-body adjustment system. The perfect fit suspension system is only a small step behind the Osprey AntiGravity system. Kelty did this design right when they build the perfect fit suspension system as it can literally fit to any torso size.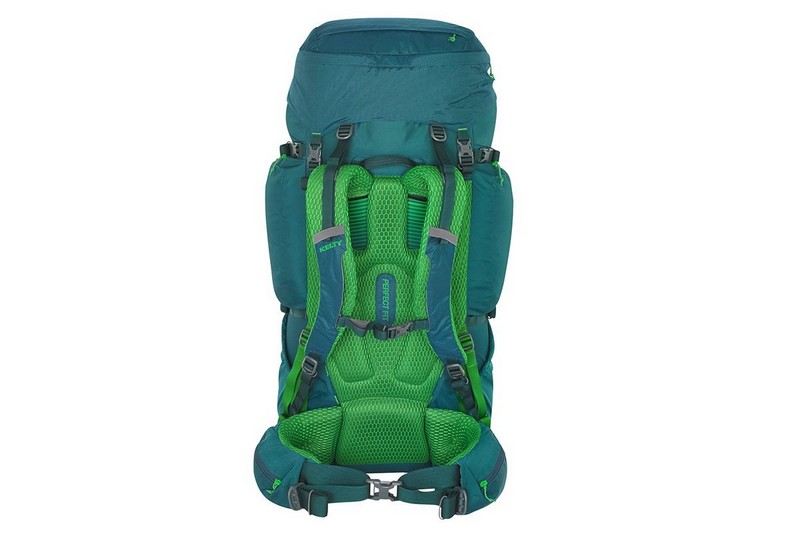 When I went on a long 4 day back-country backpacking trip, this suspension system really made the backpack feel like it was really, really close to my body. Everything just felt tight to my body and not swaying all over the place like some other backpacks do.
For easier carrying, it has Dual LightBeam aluminum stays, these bad boys give this pack the outstanding support it needs for hauling heavier loads, making the trek much easier on you, and saving you the back strain, and believe me, the older you get, the more important that is.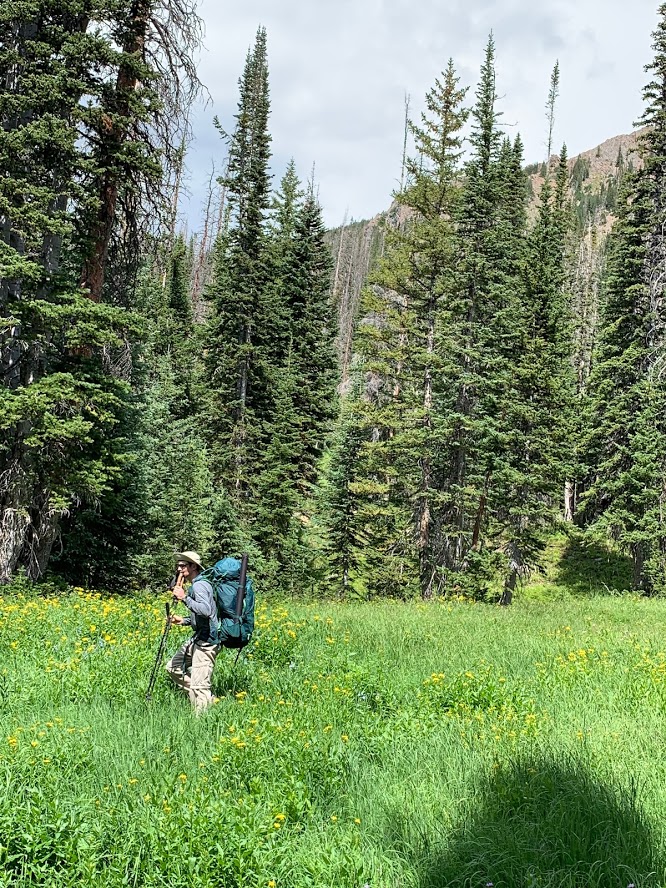 Unlike other backpacks like this, The Coyote 80 offers up a handy little sleeping bag compartment, with all the storage on this puppy, staying organized is a breeze! Since I have the Marmot Helium sleeping bag, it leaves room to put my sleeping pad (the Klymit Insulated Static V Lite) and rain gear all inside the sleeping bag compartment.
Plus, the top lid converts into a sling pack which can be thrown over your shoulder so you can continue exploring without the main pack itself.
Benefits of the Backpack
Here are some things we like about this backpack:
Probably one of my favorite things about the backpack is the design. A ton of pockets, passthroughs (for things like rifles, shotguns, fishing rods, tent poles, etc.) and other cool things, but my favorite would have to be the day pack.
The top pocket transforms into a sling pack, so you don't need to pack an extra bag. It's very handy when you actually get to your campsite and want to drop off your main pack, and keep a small bag on you to go exploring, get some fishing in, or do some foraging with it.
The big side pockets are great. Able to fit water bottles, lanterns, and other pieces of equipment that are on the larger side.
The Front pocket is so deep it's unreal! There's also a place to store a poncho or jacket on the outside of that. The lid of the pack actually has two pockets on it as well. As noted, the storage/capacity is one of its best features.
There are two pockets on the hip belt as well which although small, they nicely hold your compass, GPS, pocket-knife, cell phone or even store a snack or two.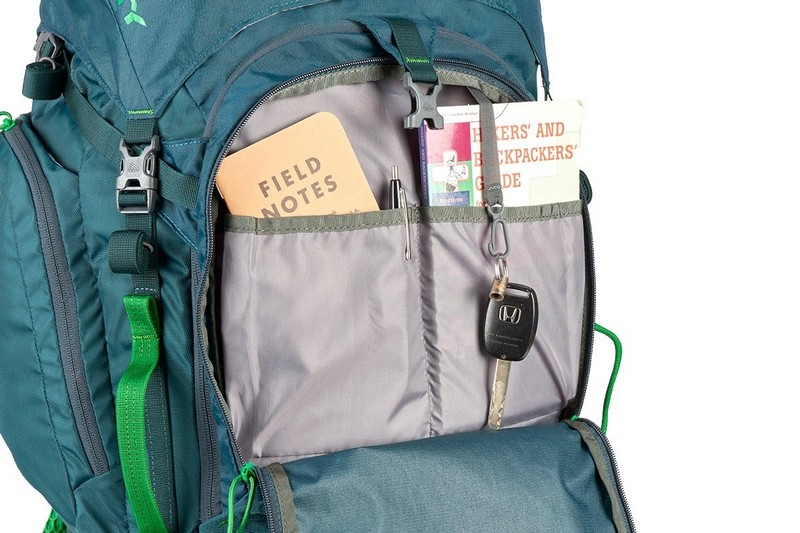 Con's of the backpack
Some things that I didn't like about the backpack:
The durability of the bottom of the backpack could be of a different material and thicker than the main fabric. The bottom of the pack does have quite a few tie down loops, so this may help protect the bottom material. But this isn't too major.
Another down size, which is a huge one if you plan to hunt,  fish, or go on extended backpacking trips, is it's not waterproof, and it offers no rain fly. So, keep that in mind, that you will need to check weather reports before venturing out with this pack or purchase a waterproof backpack cover.
Backpack Add-on's To Consider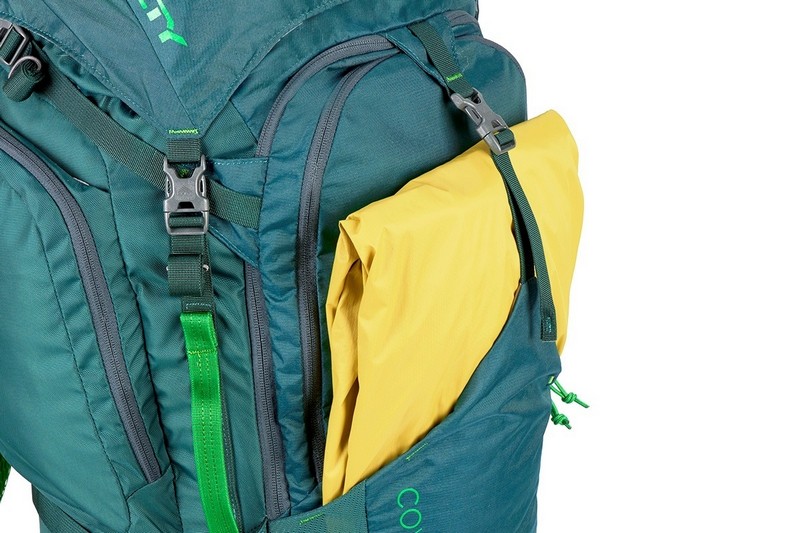 There are 2 add-ons that you might want to consider:
Hydration Bladder – Typically, for the casual user, you wouldn't necessarily need these add-ons, but here me out.  This backpack is hydration compatible (reservoir sold separately.) So you will need to purchase or transfer your own hydration bladder to this backpack.
The other add-on that you should consider, and I already mentioned it above, is the rain fly. You just need to do some research to find backpack covers that will fit an 80L backpack.
Final Thoughts

If you have question about this backpack, or any other Kelty products, their customer support team is great, and normally responds promptly to questions and concerns about any of their products.
And here's the best part, but the price of this backpack is AMAZING! You can check out the pricing and price history above, but it's typically $130 less than the Osprey Atmos 65 AG.
You really won't find a better fully featured backpack for cheaper, especially one that's designed and crafted better than this one. I say this though, you have to pay for quality a lot of times, and in this case, you get it.
Kelty products are normally well crafted, durable, and have been around a very long time. The craftsmanship that goes into making these backpacks is tremendous, and they have a very dedicated team behind the scenes that dissect years of customer reviews, and they apply it to make alterations, improving their products for us, the consumers.
You may come across other packs out there that are similar to this one, for around the same price, and all I say is make sure you compare. Kelty has been in business since 1952, and to stay in business that long you need to do something right.
If you have a question about this backpack, please leave a comment below.
| | |
| --- | --- |
| Gender: | Mens |
| Features: | Sternum Strap, Hip Belt Pockets, Ice Axe / Trekking Pole Loops, Compression Straps, Hydration Compatible |
| Weight: | 85 oz – 5 lbs 5 oz |
| Dimensions: | 34 x 17 x 14 in. |
| Fabric Details: | Polyester 75x150D Tasser Coal |
| Torso Range: | 15.5 – 21 in. |
| Pack Fabric: | Polyester |
| Weight Capacity: | 55 lb |
| Pack Pockets (+ Main Compartment): | 6 |
| Best Use: | Expedition, Hiking, Climbing |
| Pack Capacity: | 80 Liters / 4882 Cubic inches |
| Frame Type: | Internal Frame |
| Pack Access: | Panel, Top |
Price Comparisons
Kelty Coyote 80 Backpack Review Videos