Smith Holt Snow Helmet Men's Review
Compare Prices From Top Retailers & Save Big!
Last Updated: November 28, 2023 12:59 am
Get Price Alerts
Email Me When The Price Drops Below...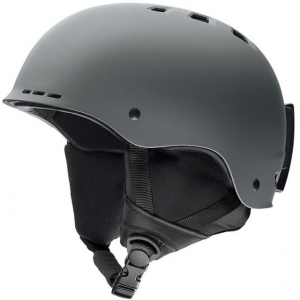 Smith Holt Snow Helmet Men's Review
Description
Smith Holt Snow Helmet Review
Quick Specs:
Construction:  Injection-molded
Material: Polycarbonate
Weight:  19 ounces
Vents:  14
Visor/Brim: No
Pro:  Comfortable, audio compatible ear pads
Con: Does not come with MIPS technology
Overview
If you are in need of a new snow helmet, at a reasonable price, look no further than the Smith Holt. The Smith Holt in an all-season helmet that is designed to keep your head safe during your next icy run in the backcountry or riding through the terrain park. Everyone knows how critical safety is, especially if you're on a snowboard or a splitboard, going downhill at high speed, and the Smith Holt is one piece of gear you need to be equipped with.
Fit and Comfort
The Smith Holt Helmet is a great choice of helmet, which provides a self-adjusting fit. This lightweight snowboard helmet is designed with a self-adjusting Lifestyle Fit system that flexes to match your head shape for maximum comfort. While the helmet size can't be adjusted with a dial or strap, with the Lifestyle Fit, this helmet can fit quite a few different head sizes.
One of the best features of this ski helmet is the 14 vents that will help keep your head at a comfortable temperature. The venting allows for consistent airflow. The vents are fixed and cannot be adjusted. The fixed vents can make keeping your head warm challenging when you're out in really cold weather, but we found that it is easy to wear a beanie under the helmet.
This snowboard helmet also offers Bombshell ear pads for form-fitting comfort. The ear pads make it much more comfortable than compared to some of its competitors. The pads will keep your ears warm when you're out in the cold during the winter, or remove them in the summer for additional airflow.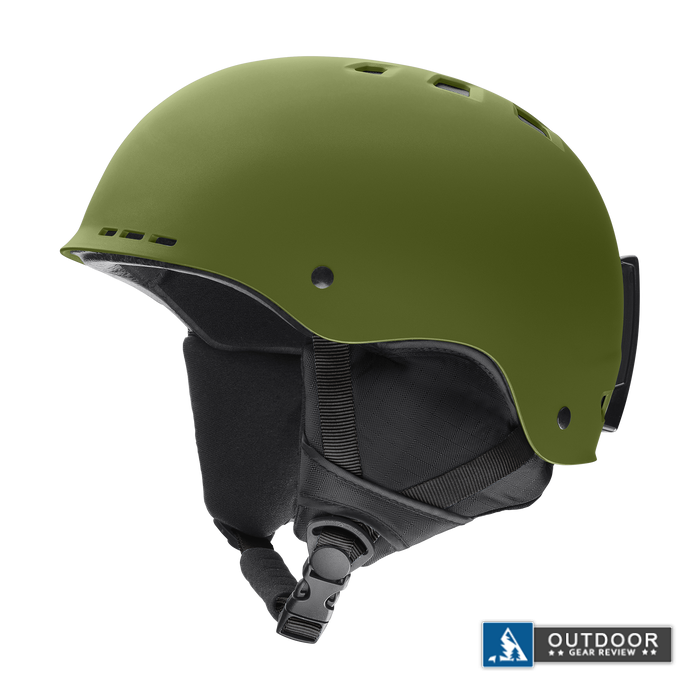 Additional Features
The Holt snow helmet features a removable goggle strap lock that will hold your ski goggles comfortably in place, making sure you don't lose visibility while you're skiing or snowboarding down the mountain, or preventing your goggles from getting lost in the snow after skiing your self into a yard sale. The goggle strap lock can be taken off the helmet if you prefer to wear your goggles under the helmet. This gives the helmet a more streamlined look.
This Smith Holt helmet is also compatible with Aleck, Outdoor Tech and Skullcandy audio systems (not included).
Wearing a snow helmet is designed to protect your head, but that doesn't mean you have to sacrifice style. The Holt snowboard and ski helmet comes in a wide range of colors, including black, white, red, green, and gray.
Safety
The Smith Holt snow helmet is built with Advanced ABS construction for increased impact protection and all-around durability. This helmet has a dual certification for all-season use which gives you a safety helmet that can be used during the winter while riding the terrain park or during the summer when hitting the skate parks.
Overall, it's an excellent helmet, however it doesn't offer MIPS, which is one of the safety features many skiers and riders are looking for….thus it won't meet everyone's needs.
Conclusion
Overall, the Smith Hold Helmet is a superb option for anyone looking for an affordable and effective helmet to use while out on the slopes. Getting a good fit can be difficult for some users, but it's got a sturdy chin strap, ear pads, and a goggle lock. The color selection is good, with some bright options if you want to maximize your visibility, and other subtler choices if you're not fond of bold hues. The company also offers a 365 day return policy.
Price History
Price history for Smith Holt Snow Helmet Matte Charcoal L

Latest updates:

$52.00 - November 24, 2023
$39.99 - November 21, 2023
$52.20 - November 13, 2023
$51.55 - November 12, 2023
$52.88 - November 10, 2023
$53.46 - November 9, 2023
$55.68 - November 8, 2023
$44.00 - November 7, 2023

Since: December 5, 2022

Highest Price: $80.00 - February 2, 2023
Lowest Price: $36.00 - August 10, 2023