Osprey Men's Exos 58 Backpack Review
Stores With The Best Prices
Get Price Alerts
Email Me When The Price Drops Below...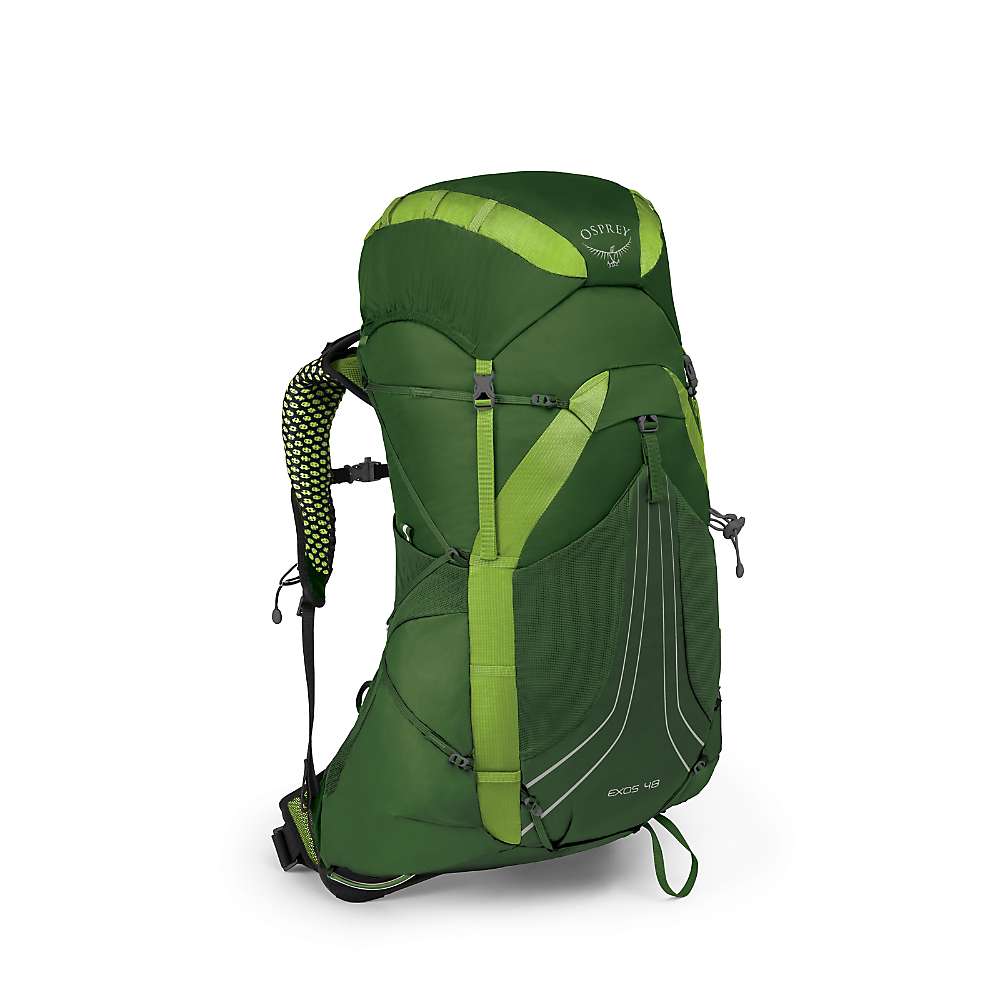 Osprey Men's Exos 58 Backpack Review
Description
Osprey Exos 58 Backpack Review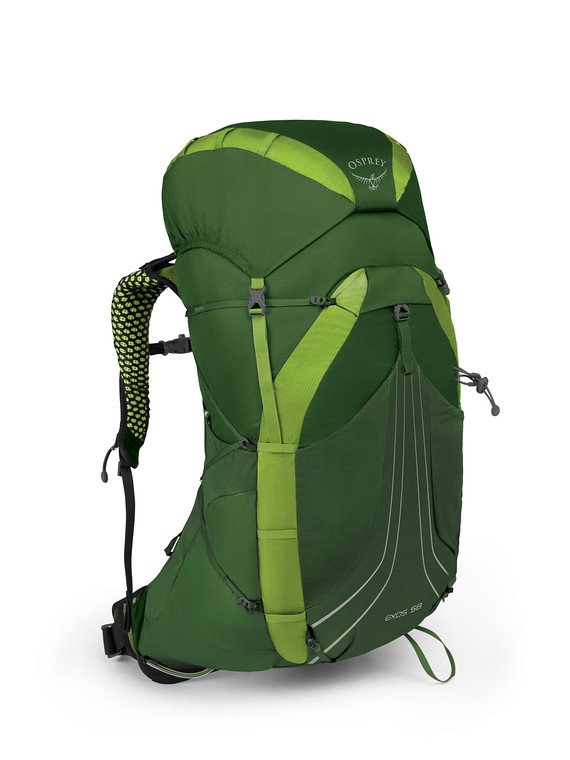 Introduction of the backpack:
Osprey is a company specializing in outdoor bags for all occasions, from rucksacks when you are snowboarding to bags when you are cycling through town. There is something for everyone at Osprey if you like the outdoors.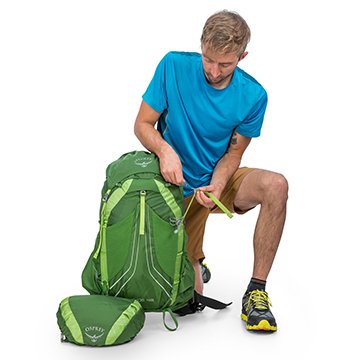 The Osprey Exos 58 is a lightweight top-loading backpack that's great for multi-day trips and thru-hikes. It has a rigid frame that makes it easy to carry heavy loads, while a well-ventilated back panel keeps your shirt dry. The Osprey Exos 58 is very different from most ultralight backpacks because it's configured with a floating top lid instead of a dry-bag style roll top.
With two zippered pockets (one pocket on top and one inside), the floating lid lets you sandwich extra gear between the lid and the top of the pack's main compartment so you can carry extra technical equipment or supplies that won't fit inside your pack. Top lids are a great feature, especially when you need to carry bulky gear like rope coils or tent bodies that won't fit into the main compartment of your pack.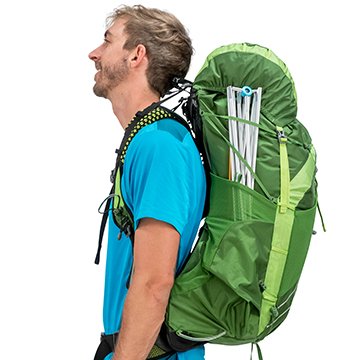 The extra top pockets also provide handy access to hats, gloves, snacks, and navigation gear. If you don't need the top lid on the Exos, you can remove it to save gear weight. This reduces the weight of a medium-sized Exos 58 by 5.4 ounces bringing it down to a very respectable 2 pounds 4.6 ounces.
There's a nylon flap under the top lid that is permanently attached to the pack, what Osprey calls a FlapJacket that covers the drawstring opening of the main compartment. When you remove the top lid, the FlapJacket is used to protect the main compartment from rain in its stead. The rear of the FlapJacket also clips into the same rear straps and buckles used by the top lid so you're not left with any extra straps or buckles to get in the way.
While the Osprey Exos 58, also has good open storage in the form of side and front mesh pockets, the main compartment is where the bulk of this pack's capacity is. With close to 3500 cubic inches of room, you can put a ton of gear and food inside.
Being a mainstream manufacturer, Osprey computes the volume of their packs using industry norms and only counts covered and zippered storage when they calculate backpack volume. If you are comparing the volume of the Exos 58 with a pack from a cottage backpack maker, be aware that they often add in open and closed pocket volumes, so the Exos 58 may feel quite a bit larger.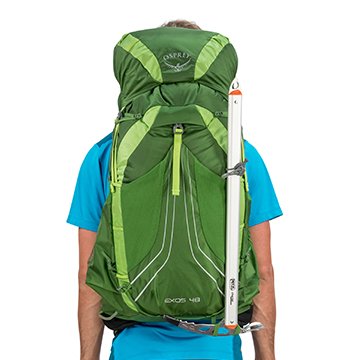 The main compartment curves sharply inward to accommodate the shape of the ventilated frame, but can make it difficult to locate gear because you need to reach around the curve to get to it. When packing the Exos 58, you also need to position that the heaviest items as close to your back as possible, otherwise the pack has a tendency to pull you backwards and off-balance. This is a common issue with ventilated backpacks, and while pulling the Exos' load lifters forward can help reduce the back-tilt, the backward pull is quite noticeable when the pack is heavily loaded.
With the exception of a hydration pocket, hang loop, and top compression strap, there's nothing inside the Exos 58 main compartment like a sleeping bag compartment or interior pockets to break up the seemingly cavernous space. Still it's easy to see inside the main compartment because lightly colored fabric panels help channel light to the pack's interior.
In addition to the main compartment, the Exos 58 has two stretch side mesh pockets which can be used to store water bottles. The mesh is not strong enough for off-trail travel. Each pocket is reinforced with solid fabric on the bottom for better durability and has a holster-style opening cut in front, which lets you position bottles sideways so you can pull them out and replace them when on the move.
There is also a front mesh shovel pocket on the back of the pack which is useful for carrying items that you want easy access to, without requiring that you stop and open your backpack.
Benefits of the Exos 58
Strong history as a quality lightweight pack. Lifetime Warranty.
Airspeed suspension keeps ventilation between the load and your back.
Very comfortable with loads up to 35 lbs.
New version appears more durable than older model.
Hip belt can tighten further for smaller waists.
Easy adjustment of the height of the sternum strap.
Larger side pockets can handle more than just water bottles.
Easy to remove top lid w/ lightweight replacement lid
Optional sleeping pad straps on bottom of the pack
Lightweight perimeter frame provides great load transfer and control
Lightly colored fabric strips improve main compartment visibility
Lots of external attachment points all around the pack
Issues / Cons with the Exos 58
Hip belt and shoulder strap pockets have disappeared
Weight has crept up four ounces
Hip belt is not adjustable
No hip belt or shoulder strap pockets
Holster style cutouts in the side mesh pockets are less secure for stowing small items
Single Z-style side compression strap can be awkward to use
Verdict
The Osprey Packs Exos 58 Backpack is a top-loading backpack that's easy to configure for many different kinds of hiking and backpacking trips. Weighing just 2 pounds 11 ounces, it boasts a stiff aluminum frame and ventilated suspension that provides excellent comfort and control for loads up to 30-35 pounds.
If you want a large but lightweight (58L) backpack with a real frame and a top lid, the Exos 58 is a great choice. Sizing can be a little tricky however, since the hip belt lengths available are tied to the torso length of the pack.
If the Exos 58 fits you, great. It's an excellent backpack. Osprey has taken a winning design and fine-tuned it for simplicity and durability. Despite the loss of pockets and the addition of four ounces, the Osprey Exos 58 remains a great option for either overnights or thru-hiking.
---
Osprey Men's Exos 58 Backpack Technical Features
---
| | |
| --- | --- |
| Features: | Ultralight, Hip Belt, Sternum Strap, Hip Belt Pockets, Detachable Lid, Ventilated Back Panel, Ice Axe / Trekking Pole Loops, Sleeping Pad Attatchment, Organizer Panel, Compression Straps, Hydration Compatible |
| Weight: | 43.3 oz |
| Dimensions: | 31 x 16 x 15 in. |
| Fabric Details: | 100D High tenacity Nylon |
| Pack Fabric: | Nylon |
| Weight Capacity: | 20 – 40 lbs |
| Pack Pockets (+ Main Compartment): | 8 |
| Weight (Small): | 43 oz |
| Ultralight: | Yes |
| Weight (Medium): | 43.4 |
| Weight (Large): | 43.7 |
| Disclaimer: | We only ship this brand to US Addresses. |
| Gender: | Mens |
| Best Use: | Backpacking, Mountaineering and Alpine, Hiking |
| Pack Capacity: | 58 Liters / 35439.3 Cubic inches |
| Trip Length: | Expedition |
| Frame Type: | Frameless |
| Pack Access: | Top |
Osprey Men's Exos 58 Pack Price Comparisons