MSR WhisperLite Stove Review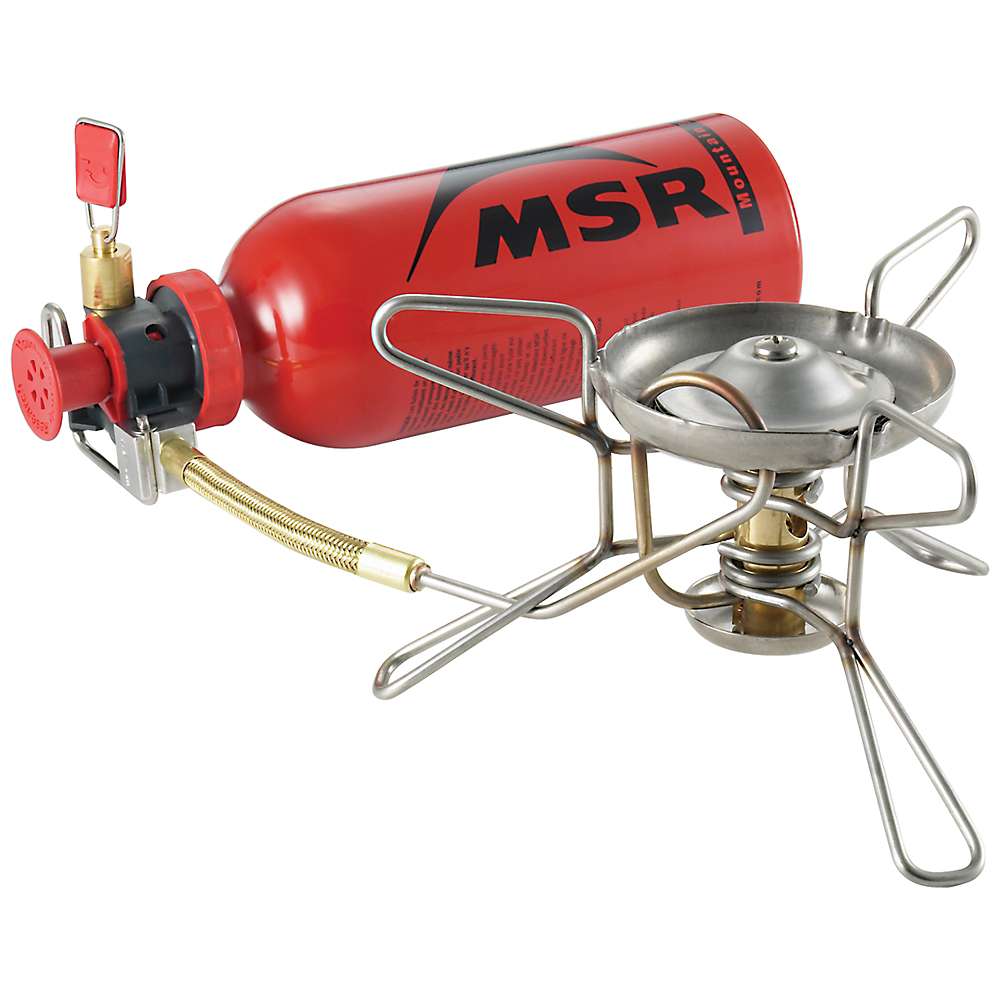 Compare Prices From Top Retailers & Save Big!
Get Price Alerts
Email Me When The Price Drops Below...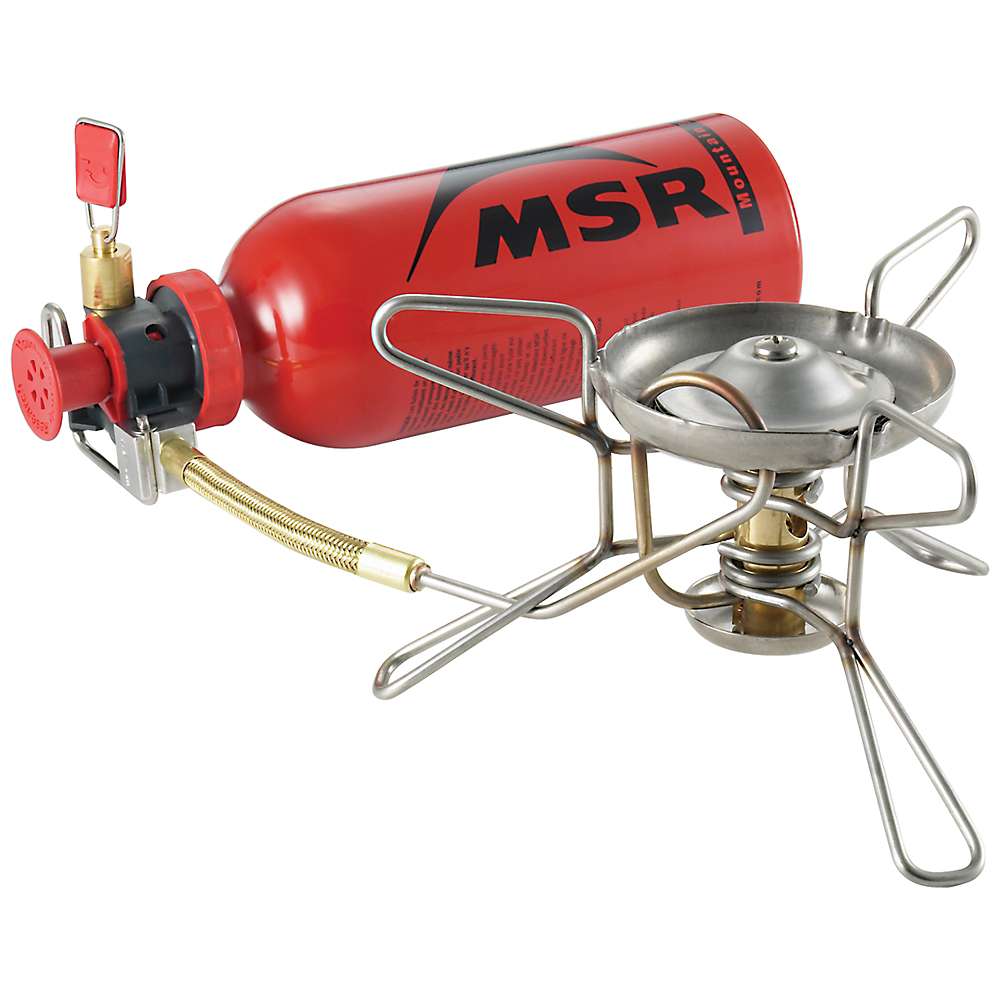 MSR WhisperLite Stove Review
Description
MSR Whisperlite Stove Overview
Are you out seeking adventure and lost on the ideal backpacking stove to tag along with you? Well, the first option we have for you is the MSR Whisperlite.
It is being recommended because the MSR company has been crushing every one of its competition for more than three decades. They are not here to play. Now, they are offering campers and backpackers their amazing MSR Whisperlite.
Whenever you are out searching for a company that produces quality products that will last for the length of your backpacking career, think MSR. They are as good as they get, and we are here for it.
Meanwhile, their hybrid Whisperlite universal backpack stove can deliver both ease and simmering abilities of canister fuel, and it switches over to liquid fuels for trips that take longer than expected, cold weather, and also foreign use.
Moreover, you will be amazed by the use of air control technology as it makes the stove unique and delivers outstanding performance with its greatly compatible fuels.
Also, it comes up as the lightest stove in its class as it provides ideal stability and simple maintenance. All of these add to the reasons why this could be the perfect stove for your backpacking career.
This stove is rated as one of our top 5 backpacking stove on the market, but it does have it's limitations. Continue reading our review to get our thoughts.
Asides from being a hybrid, its field is maintainable, it is lightweight and balanced.
Specifications
Some amazing specifications you are going to love about the MSR Whisperlite is the fact that it has a hybrid fuel performance and a canister liquid feed.
As we mentioned earlier, MSR Whisperlite makes use of a patent-pending air control innovation which successfully created an optimal fuel and air mixture from top performance with:
White gas
Kerosene
Canister fuel, and;
Unleaded gasoline
With its canister liquid feed, it is capable of delivering a much more better cold-weather performance and reduced fuel performance with a consistent output all over the life of every canister. Plus, its canister stand is among.
MSR Whisperlite comes with an aluminum mixer tube, additional stable legs made from stainless steel, and a highly refined structure that keeps the weight to a minimum.
When it comes down to an easy transition, the liquid and canister fuel couplers easily pair up with the fuel targeted jets for a swift and simple transition.
Also, it makes use of a self-cleaning shaker jet innovation and restricts leg arrangement that quickens the cleaning and makes it simpler to maintain.
When you purchase the MSR Whisperlite, you will find out that it comes with:
A windscreen
Small parts kit
Heat reflector
Stuff sack, and;
Instructions
Furthermore, its minimum weight is 11.5 pounds, which is 326g, and its packed weight is about 549g.
Benefits
Some of its advantages include:
It can operate perfectly no matter the weather condition you find yourself in
It makes use of a precision burning flame
It is very simple to maintain
If you are hanging out on your trip with a group of friends, the MSR Whisperlite is your best bet as it can take on big cookware
It is sturdy and has heavy-duty leg backups
In its class of amazing backpacking stoves, the Whisperlite is the lightest
It can be operated on diverse types of fuel
If you have never been aware, you should note that the Whisperlite is MSR's first hybrid fuel stove that combines both canister and liquid fuel abilities into an exclusive package.
It has been built on a modified Whisperlite chassis and features enhanced balance, lightweight, and easy maintenance. Note that it burns out just about any fuel that you might likely find.
It comes with a lightweight package that will never slow you down whenever you are on your way to scale the mountain. Furthermore, it comes with a balanced cooking surface.
This cooking surface is not just sturdy; it is well balanced and comes with legs that are made from stainless steel. It is this stainless steel that makes up the strong base for its stand.
Also, it features serrated pot support in a bid to keep all of your pots balanced and strong.
Not to forget, you get to make use of diverse fuels. Basically, it provides you with the option to burn almost any of the fuel source, and this includes white gas, Isobutane propane, and also petrol
Did you know that you can control your cooking with the MSR Whisperlite? Well, you can either simmer or make use of complete flame torch with ideal precision.
When your adventures involve braving the cold, and being in highly demanding surroundings, trust the Whisperlite to deliver no matter how extreme the temperature is. This also includes snow melting situations.
Furthermore, the windscreen is known to provide the cooking flame with an ideal shelter from any of the elements.
Issues/Cons Of The MSR Whisperlite
As for its issues or disadvantages, it entails:
It is usually referred to as being bulky
It has diverse pieces and parts
Its fuel line is sort of stuff and can even be very tricky to pack up
About Its Manufacturer
All you have to keep in mind is that MSR is among a company known as Cascade designs, and it was founded by three friends who were once Boeing engineers. Cascade's design owners are Jim Lea, Neil Anderson, and John Burroughs.
Furthermore, they were outdoor fans, and that was out searching for the next amazing gear concept, and from that point, they made a move to design the globe's first self-inflating mattress known as the therm-a-rest.
Currently, Cascade designs have stayed as a private and family-owned company, which has expanded to be rated among the most highly respected outdoor manufacturers the world has ever known.
To Wrap It Up
Like we have constantly stated in the article, amongst its classes of MSR backpacking stoves, the Whisperlite is the go-to stove when you are heading out on a trip with friends. You can make use of it to whip up diverse meals and have a swell time.
| | |
| --- | --- |
| Features: | Made in USA |
| Best Use: | Backpacking, Camping |
| Weight: | 15.2 oz |
| Dimensions: | 4 x 4 x 4 in. |
| Water Boil Time: | 3 min. 54 sec. |
| Fuel Type: | Liquid |
| Stove Material: | Steel |
| Awards: | Best Buy Outdoor Gearlab – 2015, Backpacker Magazine Readers' Choice – 2005 |
| Disclaimer: | We only ship this brand to US Addresses. |
MSR WhisperLite Stove Price Comparisons
Additional information
Specification:
MSR WhisperLite Stove Review
| | |
| --- | --- |
| Stove Weight (Lbs) | |
| Stove Fuel Type | |