Gregory Baltoro 75L Backpack Review
Compare Prices From Top Retailers & Save Big!
Get Price Alerts
Email Me When The Price Drops Below...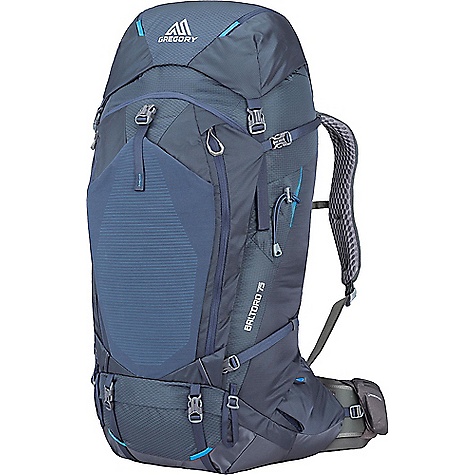 Gregory Baltoro 75L Backpack Review
Description
A Thorough Review Of The Gregory Baltoro 75 Backpack
Whether you are exploring the world, journeying to see a friend, seeking thrills of an adventure, there is always a Gregory backpack that is appropriate for you and one of their most convenient and resourceful backpacks is the Gregory Baltoro 75.
This design comes in 3 sizes, small, medium, and large. Realistically, the Baltoro 75L is not even the largest of the Baltoro in Gregory, but you can rest assured that it is big enough for your 2-3 day weekend backpacking trip.
This backpack has an angle adjust suspension that allows the Lifespan EVA shoulder straps to move up and down with the 3D Air Mesh panel in a way that fits perfectly with your back.
Also, the makers enabled its hydration reservoir sleeve to be removable so you can detach it at any time for convenience and there is also a rain cover that can be deployed to protect you and your valuables from getting wet.
Specifications Of Gregory Baltoro 75
Some of its vital specifications that will appeal to you include:
It has a fixable hydration sleeve which can convert into an accessory pocket suited to carry any light and handy accessory.
It has a rain cover that is custom fitted and can be easily accessed whenever needed on the underside of the top lid.
The backpack makes use of responseA3 suspension. This system gives room for easy body movement with the hip belt to rotate with said movement independently.
It has a mesh on the hip belt, shoulder harness, and structured foam which gives moisture out and helps the pack out to dry quickly.
High strength tubular aluminum frame: this would distribute the weight of the pack evenly across the back to make it easy to move around for long distances with ease.
Water resistant hip belt makes it convenient to keep or reach out to grab your phone or gadgets knowing they are safe in the water-resistant compartment.
It has a quick sunglass stow- meaning you do not have to take off your backpack anymore just to get your sunglasses. This system gives ease in reaching your glasses from its harness.
It comes with a tuck-away bottle holster. With this, you can get easier access to your bottle water or bottles, snacks, footwear, etc.
Size Of The Gregory Baltoro 75
It comes in 3 sizes, which are small, medium, and large.
Weight Of The Gregory Baltoro 75
The Gregory Baltoro 75 has made it easier for users to carry compared to its earlier products, but this backpack still has its weight. As a result of its detachable components, it is easy to save weight by removing what you do not need from a trip.
They weigh:
Small – 2.19kg
Medium – 2.25kg
Large – 2.37kg
Durability
This backpack was made to withstand heavy-duty functions and harsh weather conditions. The pack can adapt well to massive input, making itself flexible, and it controls the pressure to suit the comfort of the carrier.
It has a properly balanced weight and durability to the maximum with the magnificent design and combination of honeycomb nylon, quality zippers, and tough 420D high-density nylon.
This backpack makes durability one of its best features and can live for a very long period depending only on your usage.
Materials Used In Making The Backpack
The materials used include:
External material-100% Nylon
Frame Material -Aluminum
Pack body – 210d honeycomb crypto rip HD/210d high tenacity nylon.
Pack bottom – 630D High-density nylon
Lining – 135D high density embossed polyester
Suspension – Multi-density lifespan EVA foam
Accessories
Some of the backpacks are purchased with the pack itself, so there is very little to worry about when it comes to accessories.
It has accessories that comprise of:
Shoulder harness
Lumbar tune
Watershield pocket
Sidewinder bottle holster
Removable top lip
Hydration sleeve
Water-resistant zippers
Bottom loops, and much more
Benefits Of The Product
The materials used in designing helped in shaping it and gives the right amount of storage that does not necessarily affect comfort, especially when a lot of its components are detachable.
One can easily remove what is not needed for embarking on the trip. There are a lot of benefits in using this backpack, but the most obvious ones have to be:
Durability
As discussed earlier, the Gregory Baltoro backpack 75 is produced to withstand any kind of condition. Unless you intentionally want to damage it, the chances are that it would last long.
It was made from 210D double diamond nylon to preserve it from wrinkling, friction and any kind of weather.
Gear Storage
Geared with eight pockets which does not include the major compartment to fit in your sleeping bags and the likes, this backpack is made to carry more than enough for one person.
You can easily reach its components with the two zipped feature and with a detachable top lid. Itis easy to use as a daypack and carry less.
There is a specific container for almost everything; you would find where to keep your phone, wallet, glasses, water bottle, etc.
Design
Made to fit and designed to be worn by anyone of any size, perfectly so.
Comfort
With the harness and hip belt, the backpack can easily be carried by conforming to the shape of the user. The auto-fit suspension or AFS also makes it easy to adjust and fit the user perfectly and create little friction.
Issues And Cons With The Product
The major, and arguably the only, problem with this backpack is the weight. It has its fantastic components like being convenient with a very good design, but it is also very heavy.
Weight is already a serious issue for hikers and travelers; it would only make it difficult to buy one of these bags only that the smallest size is at 2.19kg or 5lbs.
History of Gregory
The Gregory Baltoro 75 backpack is a convenient traveling bag for your mountain climbing, backpacking, and adventure trips. It was designed by Gregory, who since 1977 has created innovations in the art of convenient traveling and adventurous trips.
Wayne Gregory was born to design, and since he started, he never looked back, creating all sorts of designs better suited for traveling in today's world.
For over 40 years, the team has provided comfort, style, and precision in traveling, creating backpacks that would benefit any kind of traveler.
Purchased and used by millions of people, their designs have produced so many smiles and brought ease to difficult journeys with their innovations and creative designs.
Conclusion
In summary, it is hard to decide why or if anyone should purchase this bag. It all depends on your need, and if the pros supersede the cons, then it is your go-to backpack.
As earlier listed, the Gregory Baltoro 75 had amazing features that bring comforts, beauty, durability, style, and accessibility to your adventures but if the weight is too much a big deal then maybe go for something else.
Nevertheless, compared to other backpacks of similar prize structure, quality, and grade, this backpack stands out.
Gregory Baltoro 75L Backpack Video
| | |
| --- | --- |
| Features: | Hip Belt, Hip Belt Pockets, Sternum Strap, Load-Lifter Straps, Detachable Daypack, Compression Straps |
| Weight: | 85 oz |
| Dimensions: | 31 x 19 x 14.5 in. |
| Fabric Details: | 210D nylon, 300D nylon |
| Dimensions (Small): | 29 x 18 x 13 in. |
| Dimensions (Medium): | 31 x 19 x 14.5 in. |
| Dimensions (Large): | 33 x 19 x 15 in. |
| Pack Capacity (Small): | 71 Liter / 4332 Cubic inches |
| Pack Capacity (Medium): | 75 Liters / 4577 Cubic inches |
| Pack Capacity (Large): | 79 Liters / 4821 Cubic inches |
| Torso Range: | 18 – 20 in. |
| Torso Range (Small): | 16 – 18 in. |
| Torso Range (Medium): | 18 – 20 in. |
| Torso Range (Large): | 20 – 22 in. |
| Weight Capacity: | 55 lbs |
| Weight (Small): | 5 lbs 1 oz |
| Weight (Medium): | 5 lbs 5 oz |
| Weight (Large): | 5 lbs 8 oz |
| Gender: | Mens |
| Best Use: | Travel, Multisport, Backpacking |
| Pack Capacity: | 75 Liters / 4577 Cubic inches |
| Frame Type: | Internal |
| Pack Access: | Bottom, Front, Top |
Gregory Men's Baltoro 75L Pack Price Comparisons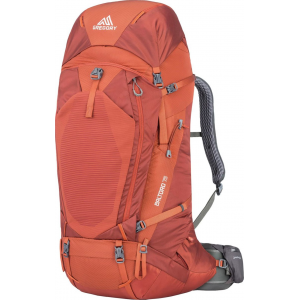 It's predecessor won countless awards for being the most comfortable high-performance pack. So why mess with a good thing? To make it even better of course. The Baltoro 75 has ...
in stock
Price History
Price history for Gregory Men's Baltoro 75

Latest updates:

$245.78 - October 8, 2022
$253.43 - October 1, 2022

Since: October 1, 2022

Highest Price: $253.43 - October 1, 2022
Lowest Price: $245.78 - October 8, 2022
Additional information
Specification:
Gregory Baltoro 75L Backpack Review
Gregory Baltoro 75L Backpack Review Videos