Bern Macon 2.0 MIPS Helmet Review
Compare Prices From Top Retailers & Save Big!
Last Updated: November 28, 2023 1:56 am
Get Price Alerts
Email Me When The Price Drops Below...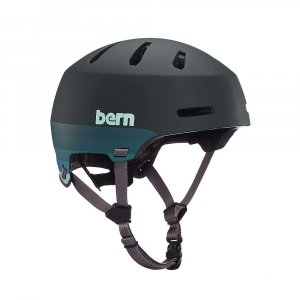 Bern Macon 2.0 MIPS Helmet Review
Description
Bern Macon 2.0 MIPS helmet
Quick Specs:
Construction:  Injection-molded
Material: ABS (Acrylonitrile Butadiene Styrene)
Weight:  13.3 ounces
Vent Count:  12
Visor/Brim: No
Pro:  An all around helmet for every sport
Con: Add-ons, such as the winter liner, are not included
Overview
Tired of having a different helmet for every sport?  The Macon 2.0 is an all-season helmet that could be used for many different sports including biking, skiing, splitboarding, snowboarding, or skating.
Warmth and Ventilation
With the Macon 2.0 Winter Knit, adding warmth to the versatile helmet is simple to do. Simply switch out the top pads, click the ear muffs in place, and screw in the goggle clip and the helmet is easily converted from a bike or skateboard helmet to a warm snow helmet.  This "Winter Knit" is not included with the helmet and must be purchased separately. Wearing a beanie underneath the helmet is also an option. The helmet has 12 vents to improve airflow, however they are not adjustable vents.
Looks and Weight
The Bern Macon 2.0 is one of the top ski and snowboard helmets and is a more lightweight version compared to its predecessor weighing in at only 13.3 ounces.  This snowhelmet is compatible with the Quickmount Asteroid bike light as well as for snow goggles (both not included).  The helmet comes in many different colors to choose from.
Helmet Fit
This cool helmet comes in 3 different sizes and features an adjustable chinstrap to better fit any head. The Bern Macon 2.0 also incorporates MIPS safety technology.  What is MIPS?  MIPS stands for Multi-directional Impact Protection System.  The helmet's construction includes a thin material, a slip plane/liner, when on impact allows the material to move independently of the helmet.  This technology is designed to reduce the chance of brain injury when in a crash.
Conclusion
Whether you are a rider, skier, skater, or biker, the Bern Macon 2.0 is an all around good helmet, at a reasonable price point, that will protect you if you take a fall on the mountain or in the park.